Seagate IronWolf 110 SSD is built for NAS with capacities 240GB to 3.84TB
Seagate IronWolf 110 SSD is built for NAS with capacities 240GB to 3.84TB
Wishlist
Compare
Seagate IronWolf 110 SSD is built for NAS with capacities from 240 GB to 3.84 TB. Each drive includes AgileArray™ firmware to keep your NAS enclosure maximised for demanding 24×7 and multi-user environments, and can be used in an all-flash array (AFA) or in a NAS capable of tiered caching.
Take your NAS to the next level with the IronWolf 110 SATA SSD, providing pure performance in all-flash array or tiered cache NAS-enabled systems. This enterprise grade SSD gives you increased durability and peace of mind.
Key Features and Benefits
SATA 6 Gb/s interface for easy deployment
Seagate DuraWrite™ lossless data reduction technology
Optimised with AgileArray firmware tuned specifically for NAS
Power loss data protection circuit
Enterprise-class reliability with 2Mhr. MTBF and a 5-year limited warranty
Best-Fit
Applications All-flash array NAS
Tiered caching on enabled NAS
Creative pro NAS
Small, medium enterprise NAS
Small businesses using AFA systems can be fully utilised with sustained data rates up to 560 MB/s, which allow the server to deliver more data in a multi-user environment. Using an AFA, such as a Synology FS3017 fitted with the 3.84 TB IronWolf 110, will bring your business to the next level of storage.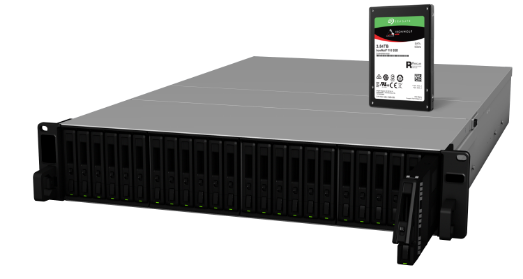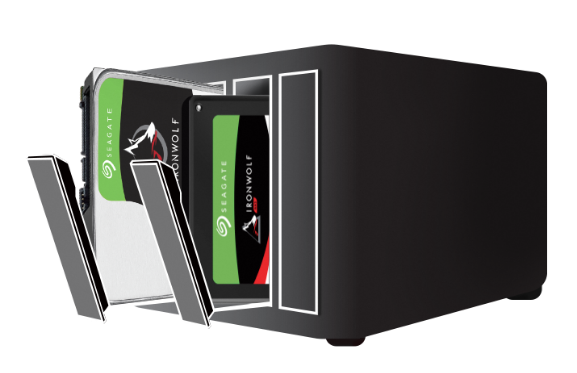 Be More Creative with SSD Cache in NAS
The IronWolf portfolio includes hard drives and solid state drives for NAS systems.
lf 110 SSD can be integrated for caching capabilities on compatible NAS, such as the QNAP TVS-951X. Having a hybrid of HDD and SSD allows for caching that provides maximised capacity, minimal cost and optimal performance.
Optimised for NAS AFA or Cache Tiering
High-Capacity Storage
NAS with all 3.5-inch HDD
•

 

High capacity

•

 

Affordable cost

•

 

Larger size
High capacity and lower price HDD compared to SSD
Hybrid of HDD and SSD Caching
NAS combining
•

 

Maximised capacity

•

 

Minimal cost

•

 

Optimal size and performance
Lower TCO with advantage of capacity and performance
Pure Performance
NAS with all 2.5-inch SSD
•

 

Smaller capacity

•

 

Higher cost

•

 

Smaller size, high density
Lowest latency with 10GbE network performance
Seagate IronWolf 110 SSD is built for NAS with capacities 240GB to 3.84TB